CRM system: Digital customer management
Customer and contact management - sales success increased with CRM software
With the integrated CRM system of projectfacts you maintain the contact data of your customers, potential customers, suppliers, applicants and employees once centrally and can access them everywhere. projectfacts is more than just an online CRM. It is an integrated solution that creates intelligent connections between all business processes. Therefore, you see in the CRM not only the master data for individual contacts, but also all communication and collaboration: projects, tickets, appointments, invoices etc. This way all employees are always informed about the current status of all arrangements and you can save double maintenance effort.
You also have a perfect overview of your potential customers and projects with the sales opportunities and always stay up to date with the integrated campaign management.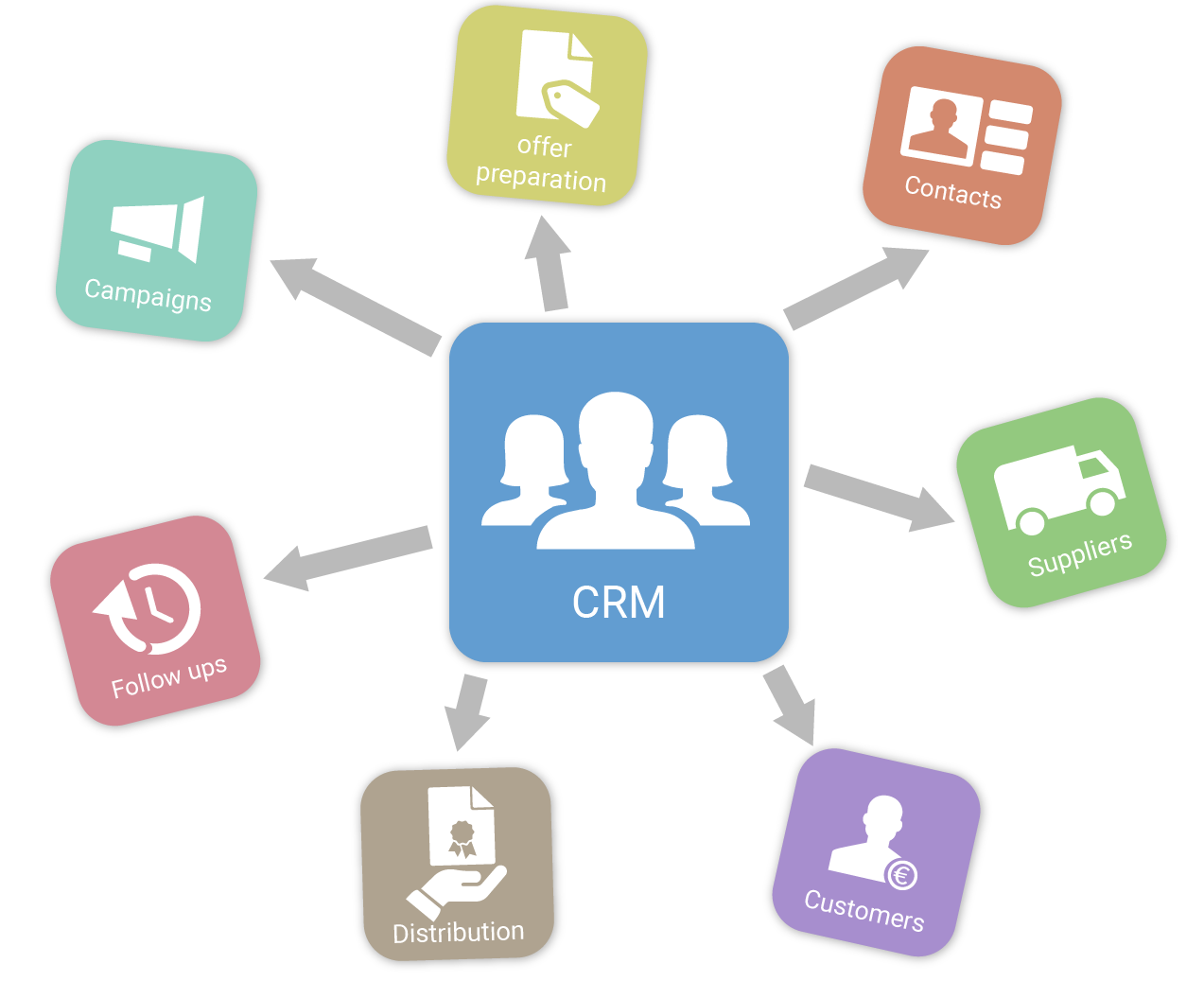 Contact management
Good, correct and up-to-date information is the basis of good customer management. Therefore, the CRM of projectfacts offers you not only the pure contact data, but also all information that the networked system can find about a contact: Appointments, tickets, e-mails, offers, invoices and much more, such as customer-specific price lists, contracts and SLAs.
Customer Management
projectfacts gives you the right tool to maintain existing contacts optimally and to win potential customers. The ABC analysis helps you to set the right priorities with your customers. The Sales Funnel of projectfacts supports you to win potential new customers.
Optimize sales with CRM software
projectfacts digitalizes and optimizes sales processes. In customer folders all information that you have about a potential customer is collected: Inquiries, offers as well as notes of conversations. Follow-ups support your sales team in tracking every contact. In the sales opportunities you can see how your new business is doing across the board.
Campaign Management
Whether newsletter, serial letter or telephone calls: The campaign management in projectfacts ensures that you address potential customers with the right topics at the right time. Follow-ups remind your sales team specifically of tasks and next steps.
Checklist CRM
| | |
| --- | --- |
| | Any customer hierarchies |
| | Any number of contacts per customer |
| | Special contacts per company |
| | Follow-ups |
| | Billing address |
| | Company address |
| | Private address |
| | Times can be booked on subproject |
| | Caller lists per day |
| | "Not reached" Automatic |
| | Priorities |
| | Phone interface |
| | Excel interface |
| | VCard |
| | Industry |
| | Company size |
| | |
| --- | --- |
| | Sales data (VAT ID, country, VAT-exempt) |
| | Acquisition aspect |
| | Free fields |
| | Dates |
| | Any operations per contact |
| | See all processes of a company |
| | See all projects of a company |
| | See all documents of a company |
| | See all the finances of a company |
| | Tracking of socializing and acquisition |
| | Picture |
| | File attachments |
| | Customer number |
| | Debitor number |
| | Contractor number |
| | Special contacts |
| | |
| --- | --- |
| | Organization Chart |
| | Mails |
| | Tickets |
| | Consolidation of contacts |
| | Synchronization with Outlook and other mobile devices |
| | Synchronisation mit Outlook und anderen Endgeräten |
| | Service Level Agreements (SLA) |
| | Categories |
| | Groups |
| | Remarks |
| | Company hierarchies |
| | Forum per contact and company |
| | Integration of social networks |
| | Messanger (MSN, AIM, Yahoo, Skype) |
| | Phone list |