The software for your marketing department
Tools for efficient marketing
projectfacts makes the overview and planning of your marketing projects easier with its smart tools. Whether alone or in a team, with projectfacts you are prepared for all challenges. Improve the collaboration with your colleagues. With projectfacts you can efficiently and easily share documents, pictures, videos or simply ideas. The team chat and the agile boards provide a fast arrangement.
Online project management
Plan your projects and marketing campaigns directly in the cloud with online project management. With the Gantt chart for projects, you can quickly see what the current progress is and how much time is left for each task. As a marketing manager, you can decide who has insight into the project and who can edit it. Manage not only your projects, also your employees.
Record project times
In agency companies it is important to book project times. With the time recording software from projectfacts it is very easy. Your employees record their working times and book their projects, tickets and tasks. Here it can be distinguished whether the time is billable to the customer or not. Thus no expense costs are forgotten and you automatically increase your turnover.
Ticket system
Especially for marketing agencies this tool is a great benefit. With the ticket system, no customer inquiry will be lost. You can answer directly in the system or call your customer with the number saved in the contact. If you are the wrong contact person for an inquiry, the tickets can be assigned to a colleague. You can also connect tickets to projects and bill them.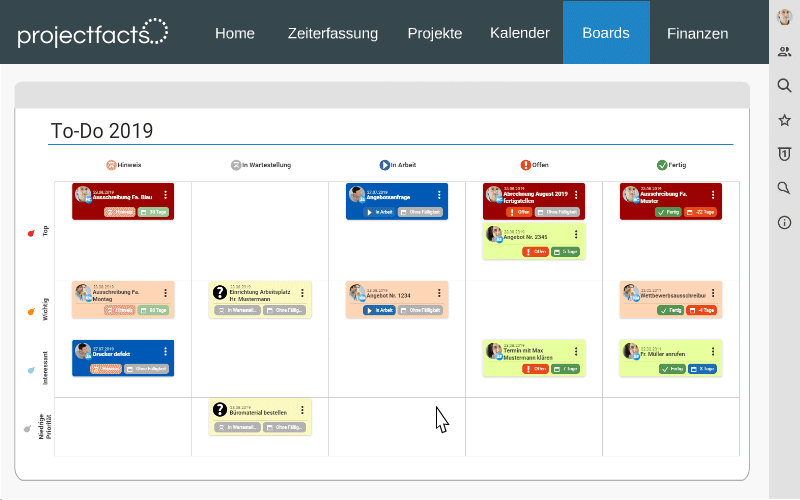 Stay up to date with Kanban Boards
Enough with the memos! With the Kanban Boards you have an overview of all marketing tasks and their status. Create tasks or ideas for you and your team and keep an eye on progress. With the practical drag & drop function you can easily move the tasks between the status or team members. Customize your Kanban board individually according to your needs, because projectfacts is a system that adapts to you and not the other way around.
More agile tools
Benefits for your marketing department
Smart tools for the efficient planning of projects
Gantt chart for projects simplifies the overview of the progress
Kanban boards for task planning and notes
Book project times directly at the time recording
The ticket system is ideal for agencies to manage customer enquiries
With the integrated chat a quick exchange with colleagues is possible