Time tracking
The online software for your time tracking
projectfacts combines the recording of attendance time and project times of your employees in one software. By combining these data, you get a complete time recording online. As a result of the obligation to record working hours introduced by the ECJ, a corresponding system will soon become indispensable. With projectfacts you already meet all relevant requirements.
In addition, you benefit from a whole range of features that make your work noticeably easier. They offer your company real added value:
Systematic time recording online for all employees

Check-in and check-out mobile, online or via terminal

Documentation, accounting and analysis of project times
---
Your digital time recording workflow
Digital time management for your projects: from recording to billing in just a few steps. The time recording software links the working time directly to your projects and allows a clean evaluation and accounting.
Time tracking online
With projectfacts, employees can quickly and easily record their attendance times. For this, we offer a web-based solution that allows you to check in and out from anywhere - whether online, mobile or at the terminal.
Accounting recorded project times
Attendance times can be flexibly booked to projects in the next step. In this way, you create the basis for minute-by-minute project accounting. Activity reports can also be created and exported automatically.
Book digitally recorded times to projects
projectfacts is an integrated system that intelligently links time recording with other processes in your company. You gain the greatest advantage when employees book their times in the software to concrete projects. Projects mean, for example, internal processes or projects with customers or other external contacts.
Employees assign their working time registered in the time recording programme directly to the projects, sub-projects or work packages into which the corresponding effort has flowed. The advantage? For one thing, the progress of projects can be seen from the hours booked on them. On the other hand, the hours booked for a specific sub-project or work package are automatically billed as soon as it is completed.
---
One time recording online for all processes
With projectfacts you have one system for all company processes. This offers considerable advantages, also for time recording. If you use the ticket system, for example, times can be booked directly from tickets. Projects and sales opportunities can also be booked directly with times. This ensures two things at once:
Times can always be booked exactly to the work process in which they occur.

Employees can book their times from anywhere, no matter where they are in the system.

Documentation, accounting and analysis of project times.
For this reason, booking times is just as easy as time recording itself. Projects can be selected from a predefined list, and new projects can be easily created. Templates can be used to determine whether the booked time is billable or not. If it is, the external time that is used for billing is also displayed. Service intervals such as quarter- or half-hour cycles can be easily integrated into the system in this way. But the most important thing is: Your effort decreases, the degree of automation increases.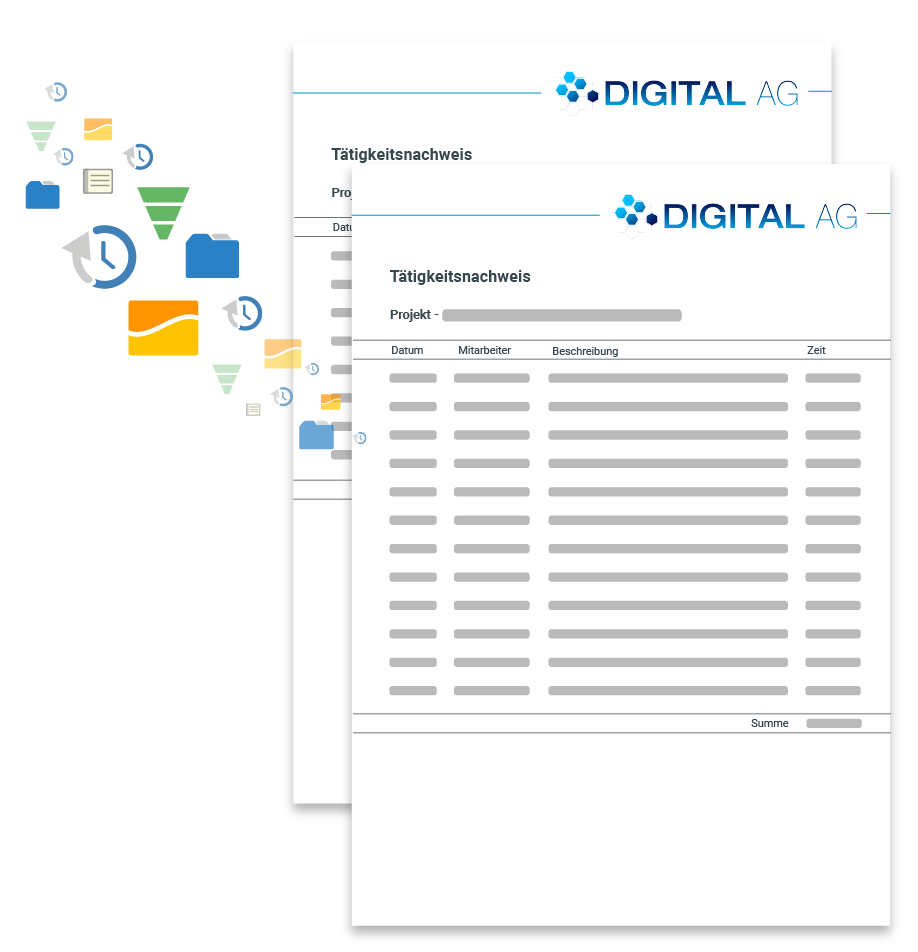 Added value of online time tracking for your company
Simply bill project times
Digital time recording is an excellent basis for creating invoices. With the time recording of projectfacts you permanently collect this data automatically. This way you don't have to laboriously collect it or maintain it in long Excel lists.
Based on your standard invoice layout, all relevant positions are transferred to the invoice with the correct booking time. Here, too, the allocation is fully automatic, so that invoicing is always carried out exactly according to the current progress of the project.
Controlling with time tracking
Digital time recording online offers you numerous possibilities to monitor the progress and success of projects. Based on the recorded times, you can quickly see whether your projects are developing as desired or whether there are problems at certain points.
By integrating time tracking with other business processes in your company, you are able to make informed decisions quickly. projectfacts helps you maintain an overview and enables you to make timely and data-driven decisions.
Further features for time recording in your company
Time types
Attendance time shows how long an employee worked on a particular day. Project times also tell you what your employee worked on during that time. For this purpose, your employees book individual "slices" of their attendance time on projects in which they were active.
Working time models
With projectfacts you can map all common working time models: Full- and part-time work, flexitime, trust-based work, night and shift work, working time accounts and much more. Even employee absences such as illnesses or holidays can be easily managed.
Break times
The legislator prescribes certain minimum breaks depending on the duration of the activity. If the break time is less than this, the employee receives a message on request. If the recorded break time is less than prescribed, the difference can also be filled automatically.
Home Office
If your employees work in the home office, they can check in via the web interface. Even for external projects, time recording can be started, paused and stopped mobile at any time. The check-in/check-out function gives you maximum flexibility.
---
Checklist time recording
| | |
| --- | --- |
| | Attendance times |
| | Project times |
| | From-To Times |
| | Activity report |
| | Reporting system |
| | Templates |
| | Quick bookings on top projects |
| | Week view / month view |
| | Terminal support |
| | Overtime account |
| | Flexitime |
| | Automatically billable with billing document |
| | Authorization system |
| | |
| --- | --- |
| | Breaks |
| | Home Office |
| | External |
| | Holidays |
| | Times postable to budgets |
| | Multilingual |
| | Stopwatch |
| | Last booked |
| | Various holiday calendars |
| | Weekly bookings |
| | Retrospective changes |
| | Simple multiple bookings via reference days |
| | Configurable at will |
| | |
| --- | --- |
| | Absences |
| | Consideration of illness and vacation in resource planning |
| | Time bookings on daily business and projects |
| | Budget and effort calculation in real time |
| | Sick days |
| | Status of individual time bookings (OK, to be clarified etc.) |
| | Holiday management |
| | Frequent booking categories (e.g. chargeability, goodwill, etc.) |
| | Billing with internal and external hourly rates |